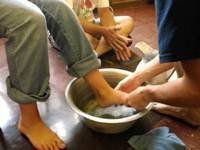 Day of Consecrated Life 2017
1 February 2017
It has HAPPENED ONE DAY, an uncontrollable restlessness desire has been born in our heart, there has been an invitation, a necessity to which to attend not only temporarily … Yes, we felt that a search was launched in us, something like: What do you want from me, Lord? It has taken time to recognize the voice as a call to follow Jesus, for a life. On the other hand, we also know that this 'historic' path did not start like this, and we may need even more time to fully understand it. This reality was born in the bosom of the Trinity, because before the creation of the world God has called us (cf. Ga 1:15). Our response to this call has been made possible by a mysterious union with the unique and constant YES of the Son ("without me you can do nothing").
With the consecration we accepted the call and we set on the way, that of Jesus, to walk the same destiny, with His same feelings and options until the end.
The attitude of our being is the melody of the entrails; The harmonic notes sound something like: what do you want me to be and do, Father ? Here I am, Father; Yes father; Behold… This music has tremendous vocational strength. It maintains us young despite years and times have past. It resounds in prayer, contemplation, gives tone to availability. It keeps us agile, close to the heart of humanity.

Let's thank God for the consecrated people… and pray for them!