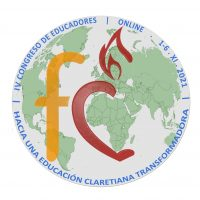 IV Congress of Educators of the CF: "Towards a Transformative Claretian Education"
16 June 2021
From June 15 to September 30, 2021, the registration for the IV Congress of Educators of the Claretian Family is open.
The objectives are:
To continue to further deepen the educational journey as the Claretian Family and in mission with others.
To re-evaluate the mission of the educational community based on the Gospel, culture and Claretian wisdom.
To explore in depth the global educational pact and Claretian pedagogy in the current context.
Below is the registration form in the different languages:
Esp: https://forms.gle/uipDbEEW5htXpGNj8
Eng: https://forms.gle/DS3Ypj7Ggjn6tdA99
Fra: https://forms.gle/TG9zqgKbtPGqfVZR9
For information on how to make the registration payment: http://apostoladocmf.org/p/congresomongomo2020/payment
For any other information visit the website of the Claretian Family: http://www.familiaclaretiana.org/en/congress-of-educators-of-the-cf/ or write to the following email: IVCongrEducaClaret@gmail.com