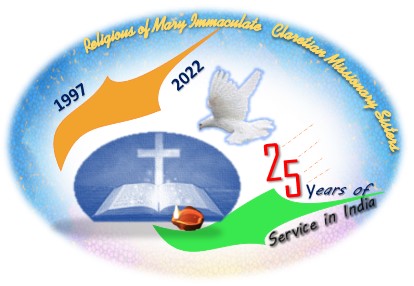 Opening of the Jubilee Year: 25 years of presence in India
16 June 2021
Today we inaugurate the jubilee year remembering that 25 years ago, on this day, Srs. Eduarda Perez and María Teresa Garitagoitia together with 2 Claretian priests (James Kannanthanam and George Mathew cmf) arrived to Mysore. Two sisters have given basis for a new community in Udayagiri, in a small rented house, with the objective to foster Claretian presence and to develop our mission in India.

It was a simple and humble beginning which has taken root. Today in India we have 4 communities, as part of the South Asia Delegation made up of sisters of perpetual vows and of all stages of formation, carrying out the Proclamation of the Gospel to every creature on different missionary fronts and especially above all in education and integral development.
We want to thank God for all these years of grace, mercy and love we experienced and all the challenges, learnings and growth of the sisters and the mission. This is the opportune time God has given to us to look to the past with gratitude, to live the present time with passion and to embrace the future with hope. (Pope Francis, Year of Consecrated Life, 2014)
Let us entrust ourselves into the loving hands of our Immaculate Mother Mary and ask her to accompany us during this time of grace and journey with gratitude.