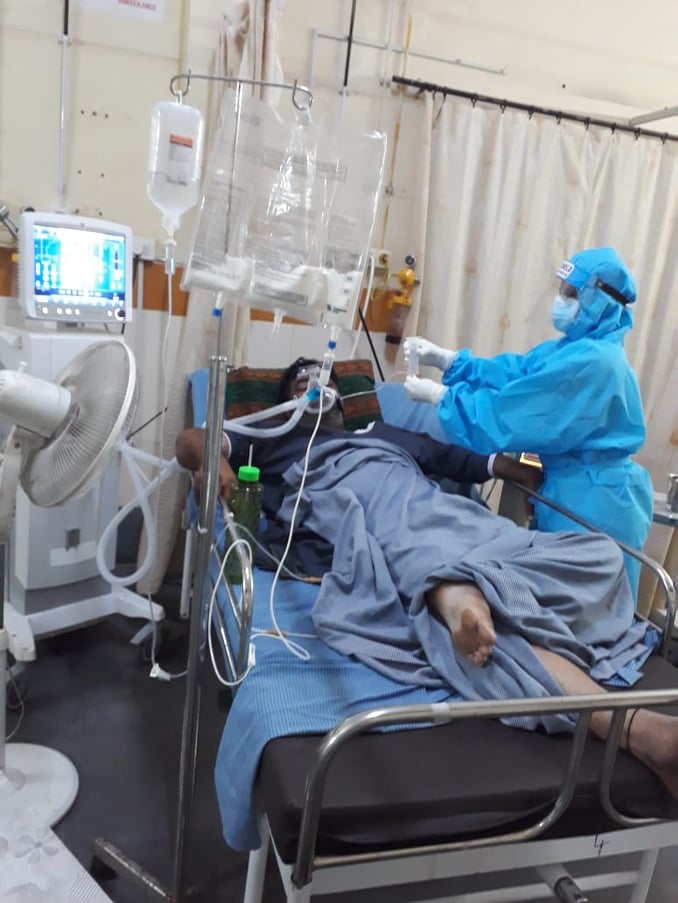 Being part of the Covid 19 Warrior team
15 June 2021
The second wave of the Covid19 was in peak, we were hearing from everywhere the devastation of the virus, lot of people loosing life, lack of oxygen and hospital facilities, hospitals unable to manage situations, doctors, nurses and other medical personnel doing many hours of continuous duty and were exhausted. It was in this time I felt my call to respond to this situation in a way possible, and as well to animate the community to respond to this.
I am a trained nurse and have no much experience of working in the hospital. When I took the decision to work at St. Joseph's hospital Covid ICU, many of the people who love me discouraged, and many missionary friends encouraged me. I told to myself that the life I have is not to safeguard and protect myself, but to share. (Anyone who loves his life will lose it, anyone who hates his life in this world will keep it for eternal life Jn 12:25. I have set you an example that you should do as I have done for you. Jn 13:15). Technically I felt myself inadequate since I was outdated in the practice, but my heart was full of willingness to give all that is possible. The hospital welcomed me very much and immediately posted me in the Covid ICU where the critical patients were treated. I felt suffocated with all the PPE equipment, but from the first day I got into the care of the patients. The nurses were very kind towards me, and they could not believe, even the religious staffs that I came for voluntary service. Besides carrying out the nursing care protocols I was consciously compassionate and solidarity with them and the family who comes in occasionally to visit them. I remember the many folded hands in prayer begging to take care of their loved ones and same in gratitude when they were well. I experienced the patients were waiting for me, asking if I could continue my duty for the night. The kind words and actions brought momentary relieve and smile to them.
I see the preciousness and the meaning of life amidst the struggles and battles for life. I witnessed many young and old dying after many days of care, and some died due to lack of life supporting systems and availability of beds and equipment. There were some situations we had to let patients die, there was nothing we could do. These all reminds us that we are not creators, but only workman of the creator. The community was very supportive to me in all this process.
Currently the situation is improving, the coronavirus cases are decreasing, but there is still a lockdown until 21st June. There are many people who cannot go to work because some family members are affected and therefore they are suffering a lot financially, so we decided to help by taking care of the basic needs of their families.
They were really very happy with our help, but this would not have been possible without the support of the congregation, especially the Province of Europe.
We thank them for their generosity, thanks to which we have been able to help almost 70 families in three places: Mysore, Tamil Nadu and Nagpur.
Michael Rani