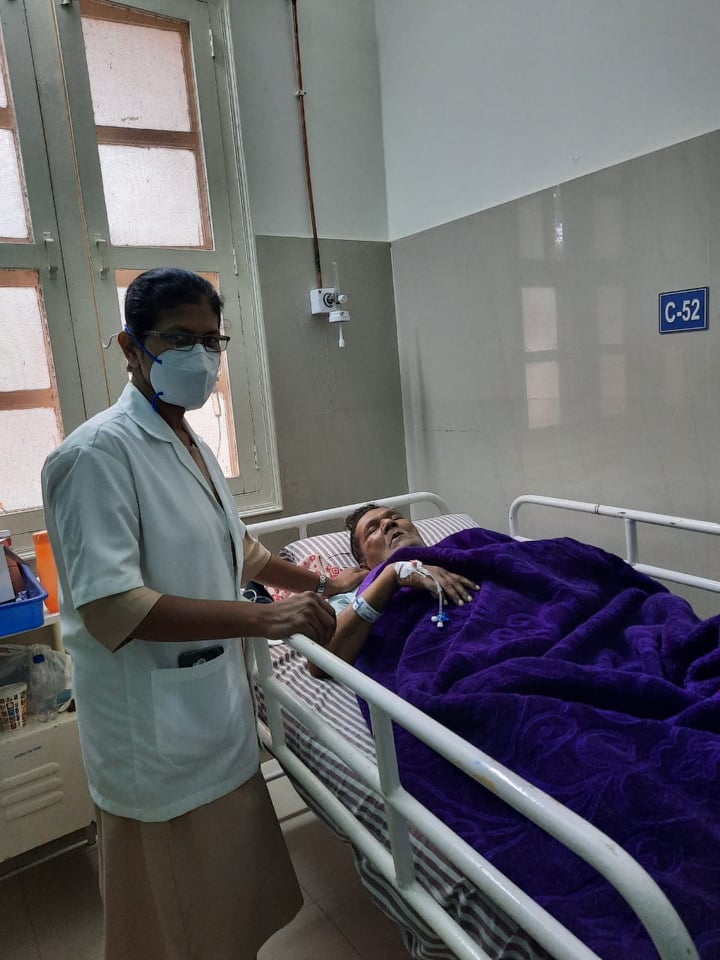 Being part of the Covid 19 Warrior team
20 October 2021
The second wave of the Covid-19 was at peak, we were hearing from everywhere the devastation of the virus, lot of people whom we know, our loved ones being affected/ losing their lives and the cry of the family members, lack of oxygen and hospital facilities, hospitals unable to manage situations, doctors, nurses and other medical personnel doing many hours of continuous duty and exhausted. It was in this time I felt my call to respond to this situation in a way possible, and as well to animate my community to respond sensibly to this present history of God's beloved in Egypt.
During the second wave there was some proven treatment for Covid-19, and as well the mode of transmission was more studied and the PPE kits were more available in the market in an affordable cost. In brief the world was better prepared to manage this second wave, although that did not guarantee the recovery in most cases.
When I took the decision to serve in a hospital at Covid ICU during peak time, most people who loved me discouraged, and many of my missionary friends encouraged me. I told to myself that the life I have is not to safeguard and protect myself, but to share. (Anyone who loves his life will lose it, anyone who hates his life in this world will keep it for eternal life. Jn 12:25. I have set you an example that you should do as I have done for you. Jn 13:15). The hospital welcomed me very much and immediately posted me in the Covid ICU where the critical patients were treated.
A Holistic Approach and Care
At first I felt suffocated with full PPE equipment in a closed set up during the peak of the summer and wearing for continuous 6-8 hours which restricted use of bathrooms and consumption water. However, from the first day I got into the care of the patients, just assuring them consciously of my nearness. I felt a great consolation and strength of Jesus and I experienced myself as His extension. I remember how Jesus was sensible during his healing ministry, calming/conquering their fear, elucidating hope, appreciating their faith, sensitive to the needs of the needy and abandoned…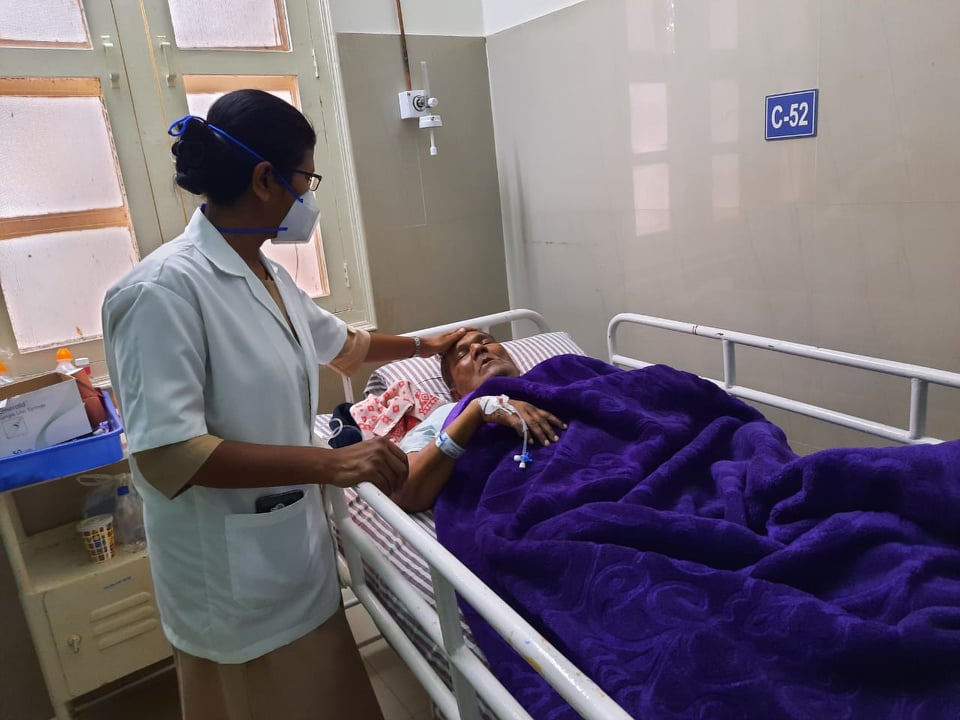 As I went close each patient, I could clearly identify their panic and anxiety of their life, which aggravated their breathing difficulty. In the ICU the families were only allowed to visit for a short time on special request and they can only enter with a fresh PPE kit. The family members all the time throng around the hospital premises to get some news of their loved ones, and come to door frequently inquiring of their wellness.
The ward is already busy as each patient needs lot of attention and other procedures. The nurses have role in holistic care of patients besides carrying out doctors' order sheet. Most of the patients were with limitation to talk due to breathing difficulty and the other equipment connected. They needed a physical touch, few kind gestures and hopeful words, soft handing during procedures, frequent presence to assure them.
The nurses are the one who is closer to the patients and their family in regard to patient care and monitoring the health conditions during the time of hospitalization. The nurse is the linking person for patient to doctors, family, health care systems etc. The patients verbalize many of their symptoms to the nurses and we can observe and identify many underlining alarming signs. In ICU many patients were hardly able to eat and we need to attend to their nutritional needs. Most of them with tube feeding and some others with assisted liquid diet. We need to feed them patiently and intermittently connecting them to the assisted breathing equipment. I have witnessed some patients who had stayed for longer time lost weight considerably.
Besides carrying out the nursing care protocols I was consciously compassionate and solidarity with them and the family who comes in occasionally to visit them. I remember the many folded hands in prayer begging to take care of their loved ones and same in gratitude when they were well. Even though we were with complete PPE kits they were able to identify us, most of them noticed my absent days and were waiting for me, sometime enquiring if I would continue my night shift. Some of them would tightly hold my hands, and I could read them through their way of holding and the expression in their eyes. The kind words and actions brought momentary relief and smile to their faces.
I see the preciousness and the meaning of life amidst the struggles and battles for life. I witnessed many young and old dying after many days of care, and some died due to lack of life supporting systems and availability of beds and equipment. There were some situations we had to let patients die, there was nothing we could do. These all reminds us that we are not creators, but only workman of the creator. This experience helped me accept my helplessness and the power of God. I experienced Jesus' Word through St. Paul "my grace is sufficient for you, for my power is made perfect in weakness". It invites me to trust evermore and surrender.
There were times we feel hopeful in recovery of patients, but were deceived through sudden collapse and unprecedented death of the patients. Particularly there was one patient who was in the ICU for more than 15 days and was very jovial and very cooperative amidst of his illness. In my duty hours, I assisted/assured for all his basic needs, psychological support and administered medications and one next day when I went for duty I was told that very early morning he died. It is very painful and difficult to accept and in fact it affects us, however we need to cop up with these situations because we have other patients to continue caring.
Battling with patients who suffer, there is positive feelings of sense of professional mission and pride, interior peace and joy, sense of achievement/satisfaction and happiness, the improvement of self-worth and ability. There were some patients who were overtly anxious and restless while nearing their death while others I witnessed their peaceful acceptance of their last moments. There was a catholic young lady (33years), she was very much dropping of her oxygen saturation, we had no spare ventilator to connect, but only a positive airway pressure machine. She held my hands tightly and made me to rub her chest, I asked her several times how she is feeling? Or anything she wants? Her face was peaceful and would node that she is ok. She died so peacefully and her countenance remained so good. I think she was a great woman of faith and accepted her helplessness and surrendered her to the mercy of God.
Generally, patients were manifested with complications like: pneumonia, hypoxemic respiratory failure/Acute Respiratory distress syndrome, sepsis and septic shock, cardiac and kidney problems. But some patients developed other complications due to prolonged hospitalization and treatment like secondary infections, gastro intestinal bleeding.
When I come back to my community, each of the patients were very present in my prayer and my prayer embraced all who suffer. My little pains and troubles of life became less significant and I sensed in me more of altruistic and generous personality. My prayer was very alive, meaningful and was very much connected.
Need for improvement:
The patient and relatives must be approached more humanly and with compassion. The nurses need to motivated to serve as vocation, feel the universal brotherhood rather than just a job for economical support. The management need to observe and ensure nursing care in a holistic way other than just carrying out doctor's order sheet. The nurses should not be involved with the matters confirm that the patient pay the hospital charges.
The hospital administration in turn must recognize and respect nurses' contribution with esteem and pay them justly. Hospital management need to meet security and safety needs of nurses, pay attention to the physical and mental health of nurses, improve the quality of human and material resources. It is important to strengthen the on-going training of nurses to care and cope with critical and severe diseases and infectious diseases and as well any public health care emergency in future.
Conclusion:
I see my profession as noble, being closer to the weak and vulnerable members of our society. During this time the world has shook all the health care professionals to look at their profession with much meaning and appreciate their role. Many corporate/private hospitals are caught up with the network of business and corruption, thus their aim for holistic care of patients at affordable cost is being very much deviated. Thus many needy are unable to receive a fair treatment. We hope and pray that as citizens we desire and contribute consciously to build a nation where health care is available to all.
Sr. Rani Michael