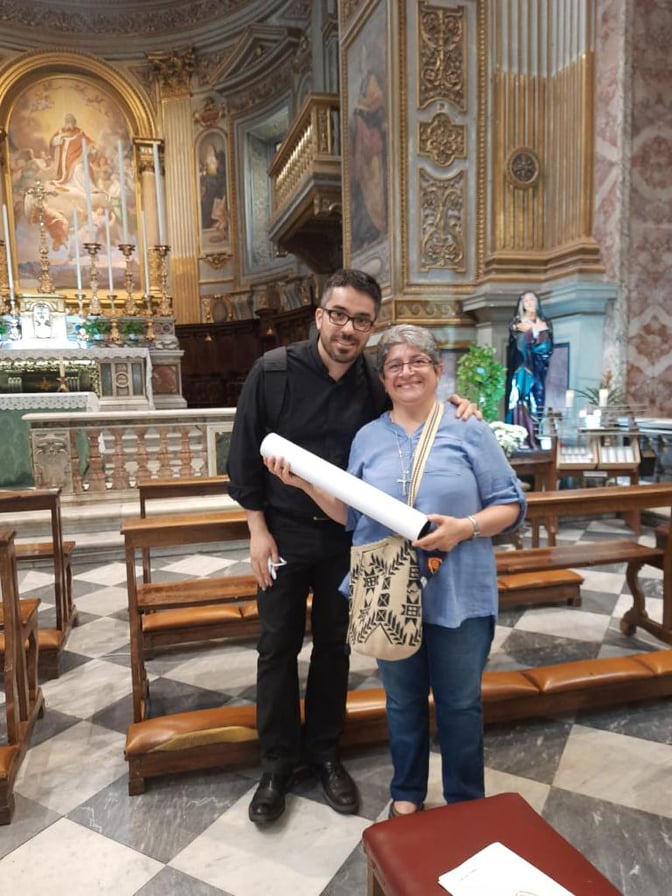 Interview on Child Protection
19 July 2021
Beatriz, you have just finished your Diploma Course in Child Protection at the Gregorian University. We congratulate you on a good conclusion and would like you to share with us some things about your experience.
1. What has the course meant to you in terms of effort and dedication?
Continuous, total dedication to accept with risk and courage, in availability, organisation and openness, this journey that has meant, in times of pandemic: acceptance, permanent communication, formalities for leaving Humahuaca until arriving in Rome, meeting places, people, Sisters and communities from different cultures, life experiences and work professions, study rhythm, new methodology in competencies, timetable with a full weekday schedule in person; dealing with themes and situations that touched personal sensitivity, congregational, ecclesial and world reality, from pain and hope, in the perspective of the protection of minors and vulnerable people.
2. You will have discovered how much responsibility we have as missionaries, as formators, educators and simply as members of God's people, to create the culture of care. What are the responsibilities we have and what have you discovered as most important at this time?
Care as the promotion of the dignity and rights of the person; of the common good; through solidarity (with the poor and the defenceless); care and protection of creation. We need to shape the culture of care that is about the protection and safety of children, adolescents and vulnerable people, a normal and habitual way of living, training, relating and working, in which those we serve, especially minors, always feel respected, safe and loved. It allows us to heal, liberate and transform personal, structural and systemic reality.
3. You have done the course with other religious, priests and lay people, how have you seen the awareness in the Church of the responsibility we have for the care of minors and the vulnerable and for the responsibility to denounce any case of abuse?
According to the ecclesial reality addressed in the Diploma Course I have just completed, I believe that awareness, as a Church, of the responsibility we have for the care of minors and the vulnerable, and for the responsibility to denounce any case of abuse, is making inroads in some latitudes more than in others; from what it implies to assume, as an organisation, as a community and as baptised people, this great pastoral challenge of reparation and prevention that forges the culture of care. With recent Popes, especially in this pontificate of Francis, this is very evident. There is still a long way to go, from our contexts.
4. What are the principles we need to take care of to ensure a culture of care and  protection of the child and the vulnerable?
The principles of the Gospel, as set out in the Human Rights of Children and Adolescents in the Political Constitution of each country, in international treaties and in other applicable laws on vulnerable persons.
Right to: life, survival and development; priority; identity; living in a family; substantive equality; non-discrimination; living in conditions of well-being and healthy integral development; freedom from violence and personal integrity; protection of health and social security; inclusion of children and adolescents with disabilities; privacy; legal security and due process; among others.
5. Sometimes we find that people are too naïve when they are not aware of the consequences of abuse in a person's life and what the secondary consequences are beyond the victim, also in their family or community environment. What do we have to avoid taking for granted, in order to become more aware of the culture of care and protection of the vulnerable?
What we are, what we do, what we are trained to do, what we know; that is enough.
It is the mission of a few or of a team, it does not touch my dignity, nor my life project. The abuses are absent from our lives, those affected are others, the "direct victims".
Awareness of self-care, care for others, can be postponed.
Standards, certifications and written protocols give security to our environments and
that is enough.
Actions and work processes that do not guarantee the physical and emotional well- being of people with some kind of dependency or vulnerability.
Extraordinary works of neighbourly love without self-care or care for the environment.
6. During the course you have learned about many sores and wounds in the Church and how difficult it is to heal them. How can we take care to prevent these evils from happening?
Implementing the culture of care and prevention in our life and mission. I highlight some keys to prevention that can help: conversion of heart. Sexual abuse is the result of actions that are framed in terms of spiritual abuse, abuse of power and abuse of conscience. We find this abusive triad "installed" in relational modes within the Church and religious communities. It requires integrating our life of faith with actions of care and protection of the most vulnerable. Another key "spirituality of prevention" is based on the cross, to say that Jesus suffered the abuse of power at the time. It leads to "shaping hope for the present and future because it becomes a practice" on behalf of victims and opens society's eyes to the consequences of relationships marked by abuse and violence.
Another key is to promote actions that give concrete expression to the culture of good treatment and the constitution of healthy and safe spaces in our Works and Communities. Both processes are framed in the hermeneutics of trust as an alternative to the culture of abuse, mistrust, blame, silence and lack of recognition.
7. What has been the most enjoyable part of the course experience for you that you would like to share with us?
The family life that we were creating, with 17 companions and three facilitators from America, Africa and Europe, with whom we interweaved, interdisciplinary, the path of awareness, hope and commitment, in the midst of the "pandemic of abuse" that, as a Church, we experience and confront. With deep respect, we approached personal, family, community, cultural and ecclesial stories; wounds of primary and secondary victims, children, adolescents and vulnerable people; drama of perpetrators, were felt. Knowledge, reflections, experiences and tools awakened enlightening skills for the path of hope in reparation of victims and perpetrators, compassion, mercy and justice, present in the Pastoral of Prevention, responsibility in "doing with others".
8. What prospects do you see for the near future for our congregation in implementing our protocol, our protection manual:
The Protection Protocol Manual is a great Congregational achievement. To know it, to contextualize it and to apply it in the Entities, Communities, pastoral areas, as a personal, community and missionary commitment; to give life to what is written, "a great contribution to the transparency in the announcement of the Gospel in favour of life and the option for the impoverished and vulnerable", from the Pastoral of Prevention, as it is written in n.2 in the Introduction of the Congregational Manual. It is a commitment and responsibility to be assumed by the Claretian Missionary Sisters and lay people in favour of the prevention of all kinds of abuse inside and outside the Catholic Church.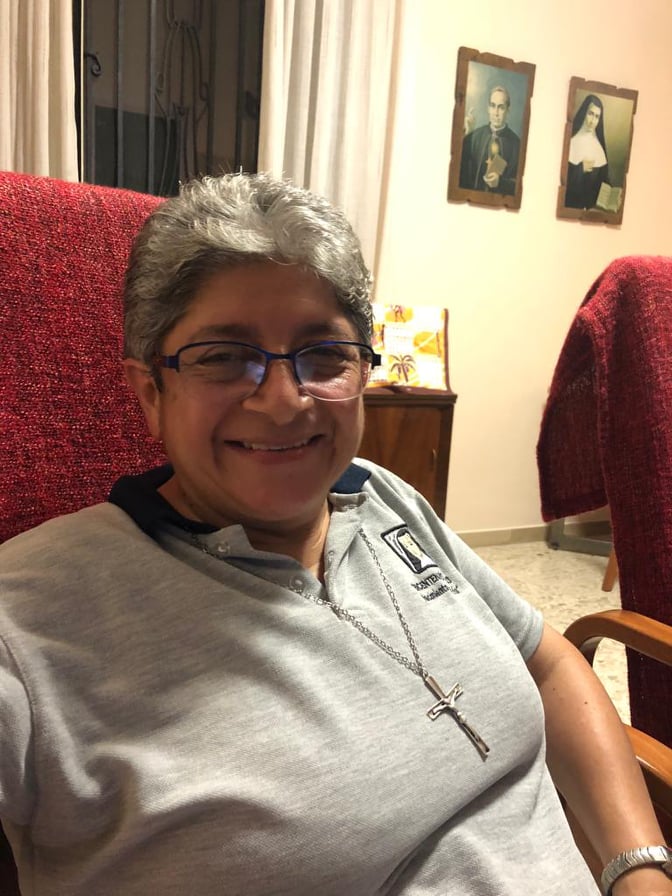 Beatriz Salazar Garzón, rmi
Claretian Missionary Sisters
Province of Latin America