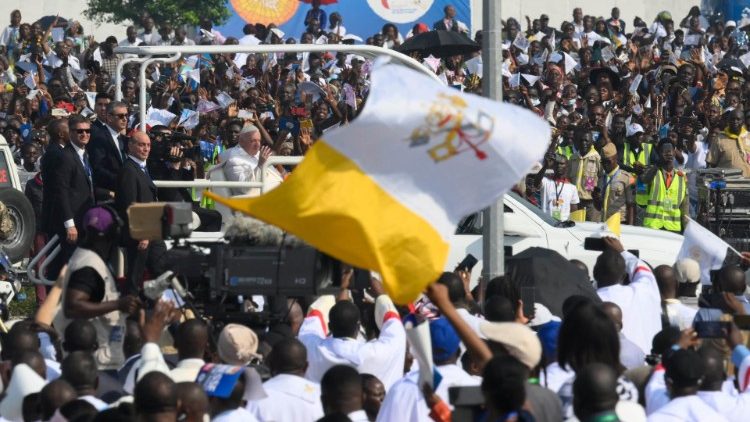 Papal Mass at Ndolo airport in Kinshasa
7 February 2023
Our Holy Father Pope Francis celebrated an unforgettable Mass in Kinshasa in the Democratic Republic of Congo on Wednesday 1 February 2023. The Mass was attended by more than one million people, on the second day of his visit to the Democratic Republic of Congo (DRC) and was preceded by a prayer vigil. From Tuesday night, the faithful flocked to Ndolo airport, in the east of the capital, to spend the night in vigil until the open-air mass presided over by the Holy Father at 9.30am Kinshasa time.
Having been warned that access to the site would be closed at 7.30 a.m., the faithful had already flooded the site on Tuesday afternoon, all excited by the Holy Father's presence in Kinshasa.
The Pontiff's presence was a comfort to the Congolese people in general, because many see in him a messenger who brings joy in the midst of sadness, pain, the sound of bullets, violence of various kinds and killings, especially in the eastern part of the Democratic Republic of Congo. The message he brought is an invitation to reconciliation «all reconciled in Christ». In his homily, the Holy Father denounced the "economic colonialism" that is "unleashed" in this country of immense wealth and fertile soil, where two thirds of the 100 million inhabitants live below the poverty line.
He also sent a message to all the executioners of this great country: "Stop suffocating it, because Africa is not a mine to be exploited or a land to be plundered". It is worth noting that despite the suffering of the Congolese people, they did not fail to show their joy through shouts, tears of joy, amazement, written on banners; the joy was immense for many to see the Holy Father in flesh and blood because many said that we only see him through images but today he has inhabited our land, he has become Congolese. Many thanked the Lord for this comforting visit. We carry our Holy Father in our prayers for the rest of his programme.