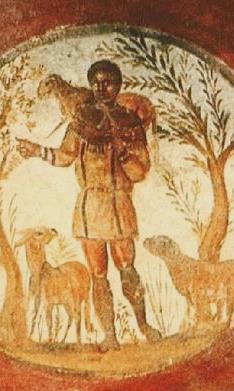 Sunday of Prayer for Vocations
7 May 2017
Eery Forth Sunday of Easter, Good Shepherd sunday, we join the intense universal prayer for new vocations, especially for the consecrated life!!! …
Pope Francis invites us:
"I would like to reflect on the missionary dimension of our Christian calling. Those who drawn by God's voice and determined to follow Jesus soon discover within themselves an irrepressible desire to bring the Good News to their brothers and sisters through proclamation and the service of charity. All Christians are called to be missionaries of the Gospel! As disciples, we do not receive the gift of God's love for our personal consolation, nor are we called to promote ourselves, or a business concern. We are simply men and women touched and transformed by the joy of God's love, who cannot keep this experience just to ourselves. For "the Gospel joy which enlivens the community of disciples is a missionary joy" (EG 21).
I wish heartily to encourage this kind of profound friendship with the Lord, above all for the sake of imploring from on high new vocations to the priesthood and the consecrated life. The People of God need to be guided by pastors whose lives are spent in service to the Gospel. I ask parish communities, associations and the many prayer groups present in the Church, not to yield to discouragement but to continue praying that the Lord will send workers to his harvest. May he give us priests enamoured of the Gospel, close to all their brothers and sisters, living signs of God's merciful love.
Dear brothers and sisters, today too, we can regain fervour in preaching the Gospel and we can encourage young people in particular to take up the path of Christian discipleship. Despite a widespread sense that the faith is listless or reduced to mere "duties to discharge", our young people desire to discover the perennial attraction of Jesus, to be challenged by his words and actions, and to cherish the ideal that he holds out of a life that is fully human, happy to spend itself in love." (message for 54th day of prayer for vocations)