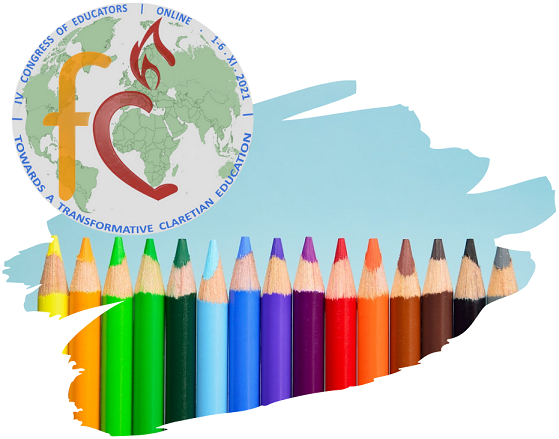 Testimony of the participation in the IV Congress of Educators of the CF
15 November 2021
My name is Ika, I am from Indonesia and for almost 3 years I have been working as an educator in Mangunan Experimental School, a public school belonging to the Archdiocese of Semarang-Indonesia.
From the 2nd to the 6th of November I had the opportunity to attend the 4th online Congress of Educators of the Claretian Family. Honestly I was so happy and curious about how the Claretian schools implement the Claretian Charism.
The Congress, in which I participated for the first time, awakened in me these concerns: What is Claretian pedagogy? Do Claretians have their own methodology or way of being with the students at the different levels?
I perceived a very good organisation. The communication, the materials, the methodology, the group dynamics and the speakers, all were very interesting and helped us to know many thing and to reflect. Even though it was online, it did not hinder active participation, everyone had the opportunity to share ideas and reflections.
During these days I realised that, although at the time of the founders there was no talk of a Global Compact on Education and Global Citizenship, they already embraced this idea. Claret says "My spirit is for the whole World" and Antonia Paris affirms the same "The whole World is the motherland for the missionary of Christ". What a great founders we have!
After the Congress I commit myself to continue giving witness and to make easy the path for others in the School where I work. I feel blessed and happy to have known more people who share the same charism and to be part of the large Claretian family. It increased my sense of belonging and the commitment to work together for the mission.
I would like to thank our East Asia Province for the opportunity and once again the organizer of the Education Congress team who have done their very best.
Francisca Mbawo, Indonesia