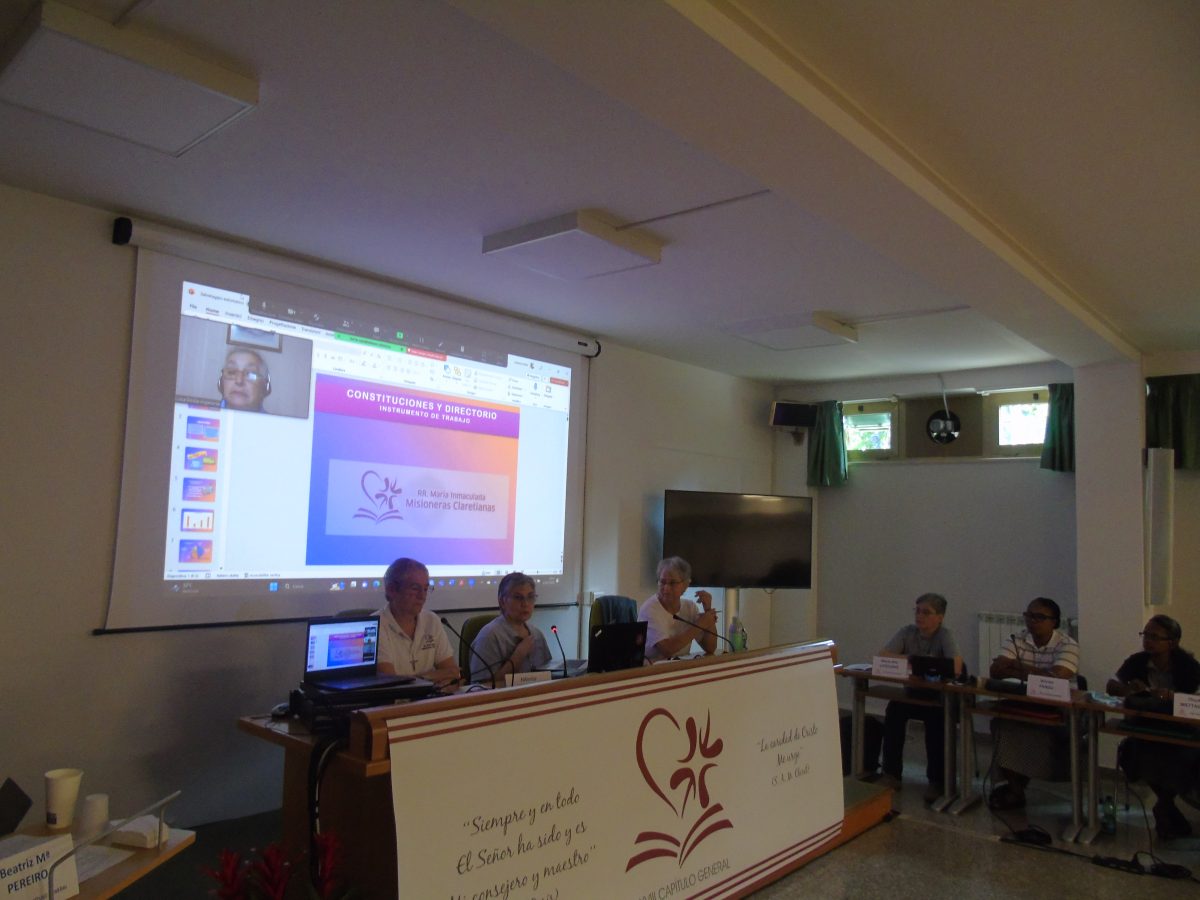 13 July – Constitutions and Directory light for our journey …
13 July 2023
We opened our day with the Eucharist animated by the general government team, followed by a time for personal prayer.
In the first session, the team shared with us a short video prayer prepared by the sisters of Reus. It was beautiful to see the tomb of Mother Antonia Paris and to see the names of each member of the chapter displayed on the wall. The president invited us to give our comments on the chapter process so far. It was an interesting exchange of our feelings and ideas, which we did in a prayerful manner.
The Constitutions and Directory Commission composed of Sisters Ana María Mandrile, Luisa Emilia Argañaraz (On-line), Catherine Tulengi, Hildegardis Ghele and María Soledad Galerón, Beatriz Pereiro, presented the contributions received from the sisters on the topic. They appreciated the sincerity with which the desires for further deepening and growth in identity were expressed. A space was opened for questions of clarification and we were invited to a personal time of reading and reflection before sharing in groups. The task was to choose 3 coincidences and 3 novelties of the presentation of the Constitutions and Directory with respect to what had been done so far. In the afternoon we went directly to our groups, and each had very meaningful conversations on the material presented.
The day closed with a celebration of thanksgiving and forgiveness. We were given a small colourful poster and each group received one of the calls we have been sharing during the last few days. We were each asked to write on one side something for which we give thanks regarding the dimension we received, and on the other side to ask for forgiveness. The dimensions were: Journeying with others, Caring for formation and spirituality, Communion of goods, Leadership and governance, Going out to the peripheries, Family life and vocational culture, and Sustainability caring for our common home.
It was a meaningful and creative way to give thanks and ask for forgiveness.
We are ready to continue discerning on the "Callings" tomorrow!