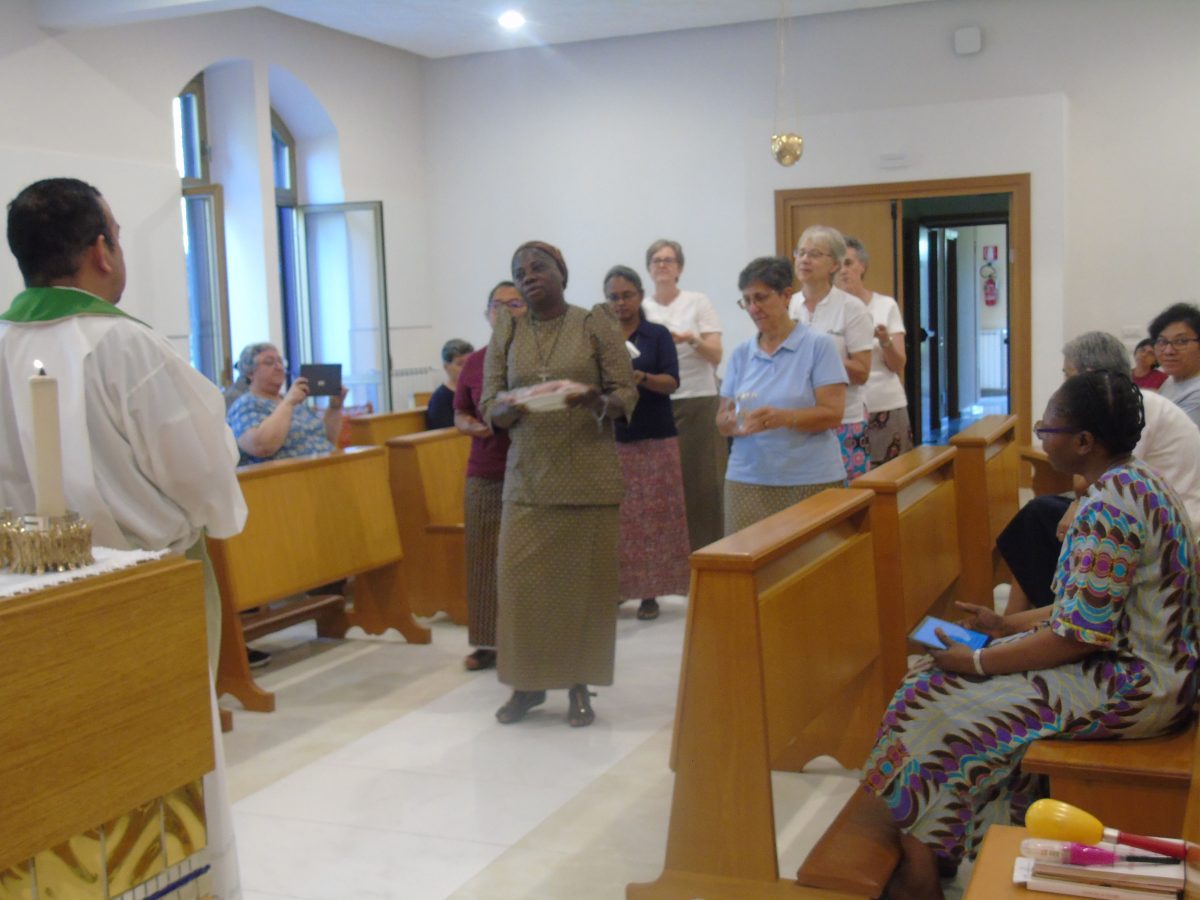 July 18 – Following the process of the calls
18 July 2023
The sisters of Africa initiated the liturgy of today, the invitation was to raise our song together thanking God for his presence in us because his love and fidelity are our companions on the way.
At the beginning of the morning session, we had a special moment of prayer and personal reflection, which allowed us to echo the journey we have made in the previous days. Jolanta Kafka, the chapter president, encouraged us on this meditative journey, fostering a sense of contemplation and connection.
This climate of prayer and thanksgiving prepared us to receive the work of the day. The facilitating team presented the week's program to the chapter members. His guidance served as a compass, ensuring we stayed focused on the path ahead, full of transformative opportunities.
One of the highlights of the day came when the drafting committee presented the proposed CALLS, accompanied by a very full explanation. This presentation stimulated an active dialogue in the assembly, giving a fervent exchange of ideas, suggestions, and proposals. It was comforting to witness the sisters' commitment and passion as they shared their valuable ideas.
The Calls and the outline for inclusion in the chapter document were approved by the assembly, signifying a collective agreement on the way forward. Each sister was granted time to personally immerse herself in the proposed outline for fleshing out the Calls, supplementing them with charismatic, biblical and ecclesial documents that could help give a better understanding of the meaning of the Calls.
In the afternoon, we met in the working groups to share what each had reflected and worked on. This joint effort ensured that our shared wisdom and unique perspectives are not lost. We are invited to present them at tomorrow's chapter house session.
We concluded our day with the celebration of the Eucharist, expressing sincere gratitude to the Lord for his presence and his work manifested through us. In this sacred moment of communion, we were reminded of the deep privilege and responsibility we have as we continue to walk this path together.