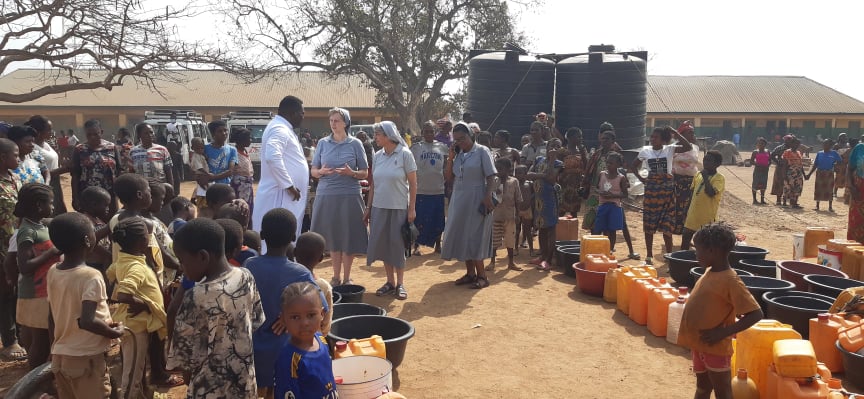 Sharing Life and Mission in Aondona
18 February 2022
From February 11 to 17 Priscilla and Amilbia visited the community of Aondona in the Diocese of Makurdi, Benue State. The community formed by 3 Claretian Sisters is inserted in a rural village contributing with integral education, health and parish ministry.
The bishop of the diocese, Monsignor Wilfred Chikpa Anagbe, a Claretian missionary, welcomed us as a brother, as a family, he dedicated time to us, he facilitated the encounter with our Claretian brothers who carry out the mission in the diocese, with whom we shared a brief, simple and welcoming time. He invited us to get to know the different significant places where the pastoral activity of the diocese is carried out, and the dreams that we can take on some centres, especially in education. During this tour of some of the pastoral centres, we were able to experience the painful situation of the people displaced by internal violence, a deeply unjust and tragic reality. Thousands of people without homes, without land, without work, without water, without necessities. Children without school, old people without food, all depending on God's providence.
The meetings with the different parish groups, especially with those responsible for the different pastoral activities, were very enriching. We shared with them our raison d'être in the Church and an intense dialogue on the promotion of women at all levels.
In Naka, another village near Aondona, where every day a sister from the community carries out her mission as a nurse in the hospital, we were able to touch first hand the precariousness and lack of health resources.
In the midst of so many experiences and participation in concrete activities, we have followed a process of deepening and discernment of reality from the Claretian identity.
With grateful hearts for the Goodness of God manifested through the sisters and the simple people we continue our visit by travelling together to Owerri to develop the workshop on vocational culture.