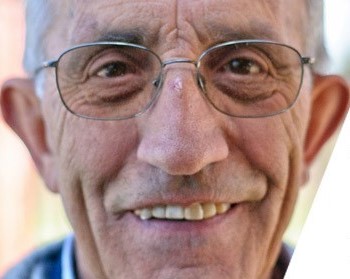 Thank you
1 March 2021
Yesterday, February 28, when the Lenten liturgy invited us to contemplate the light of the Transfigured Jesus, which was projecting consolation, on the lives of so many Christians, the news arrived that shook our hearts: the passage into eternity of Father Ricardo Aparicio, cmf.
What to say! If we know that it is our way! … he would have answered us himself, "for this we have also came" … Although we cannot deny the pain of the departure of one who, so strongly, has marked the path of so many people, communities, and the local Church.
The lives of many Claretian sisters "preserve", treasure some of the evangelical wisdom of the "little father" as the people affectionately called him. Father Ricardo was one of the missionaries who received the first Claretian sisters when they arrived in Jujuy, and he was, for years, a teacher and companion of so many others in the "art of evangelization" in the Prelature of Humahuaca.
A THANK YOU seems scarce in the face of so much wealth received … but surely, he would tell us why we need else? Now "be quiet and observe" because in attentive silence things are better perceived, the movement of hearts that can be noticed first through the eyes, rather than through words.
Goodbye, Father Ricardo! brother, teacher, friend … May your evangelizing pedagogy with a long sigth, made of patience, respect, sincere affection and defense of the honor of the poor, continue to be a way of bringing the words and gestures of Jesus closer to those who eagerly await the liberating message of the Gospel.
Ana Maria Mandrile, claretiana